Funny Best Man Speeches
How to Write a Humorous Best Man Toast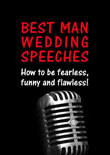 Writing and delivering a humorous best man speech is a dangerous business, and yet every best man seems to think is a requirement to be funny when they deliver their wedding toast to the bride and groom. While it is usually an expectation, let's first say that it is not a requirement. If you know that you are not good at telling jokes or stories, then stick to the tried and true classics of praise and good wishes for the future. If, however, you really want to add a few jokes and funny anecdotes, here are a few tips to keep you from making the most common best man speech blunders.
Keep it focused on the bride and groom
Remember, the speech is about the bride and groom - not you. This is not an opportunity to test out your stand-up comedy skills. Any jokes you tell should be related to the bride, groom, or marriage in general.
No off-color jokes
Stay away from anything raunchy, sexy, or trashy. These jokes are almost always borderline tacky and inappropriate for a mixed age crowd. There are any number of sample best man speeches out there that incorporate some type of joke related to sex between the bride and groom. They just aren't that funny, especially since most of them have been used before.
Certain topics are off-limits
Some subjects are always off-limits, no matter who the crowd is. Don't tell any embarrassing stories that will upset the bride, groom, or both. No ex-girlfriend stories or anecdotes about past romantic exploits of the bride or groom.
Appeal to the whole room
Don't bother telling jokes that nobody will understand except the groom. You and he may be rolling around in laughter, but there will be dead silence in the rest of the room. To carry that one step further, don't tell jokes that are too intellectual for everyone to understand. Keep it simple.
Test it out first
Practice your toast out loud and in front of someone else to test it out. Your speech may sound hysterically funny to you, but fall flat with others. The best way to be sure you've written a great speech is to test it out on a minimum of one or two people. Even the best comedians do this.
This is not the time to take risks
When in doubt, stick to the classics. Short little anecdotes about things like the groom's fashion sense, incompetence in something, obsessive behavior, early childhood, sense of direction...anything that is funny without making the groom look bad. For the bride, be even more careful and stay with praise, unless you know her extremely well.
Finally, no matter how funny you want to be, remember to include the important elements of a best man speech. These include:
Thank everyone involved in the wedding, especially those who have worked hard to put it together, such as the bride, parents of bride and groom, and maybe even the groom himself!
Praise the bride. This is one of the most important parts of the speech. If you say nothing else, make sure you praise the beauty and brilliance of the bride.
Wish them luck and love in the future. This is the ultimate conclusion and purpose of the best man's toast. If you are at a loss for a good toast, you can always just say "Rachel and Michael...To a lifetime of love and happiness."
You can always get some help with writing your speech from a number of sources online. Most of these services will collect some information from you in order to put together something that is unique and personal. They typically use some tried and true templates that incorporate the basic elements you need to cover, along with your personal anecdotes and safe jokes. Here are a couple of the best resources:
Best Man Speech Insight - For a best man speech survival kit with sample best man speeches, templates to use, sample jokes, and other tips for writing and delivering a best man toast.
Wedding Speeches and Toasts - A guide for all types of wedding speeches, not just for the best man. This company also provides prewritten speeches, over 100 different wedding toasts, and a step-by-step guide.
Ultimate Wedding Speeches - More sample wedding speeches, toasts, quotes, and tips for delivery. This guide will provide speeches for different lengths of time, such as a 1 minute, 2 minute, or 3 minute speech. You should avoid anything longer than that.